VISITORS







News & Events
Updated: 2020-01-31 16:37:45
A new strategic plan of inclusive finance in 2020
(VBSP News) On the morning of 30 January 2020 (the first working day of the lunar new year 2020), Governor of State Bank of Vietnam (SBV) Le Minh Hung, Chairman of the Board of Vietnam Bank for Social Policies (VBSP) presided the meeting at VBSP Headquarter in Hanoi. The meeting was held online at VBSP branches in across the country.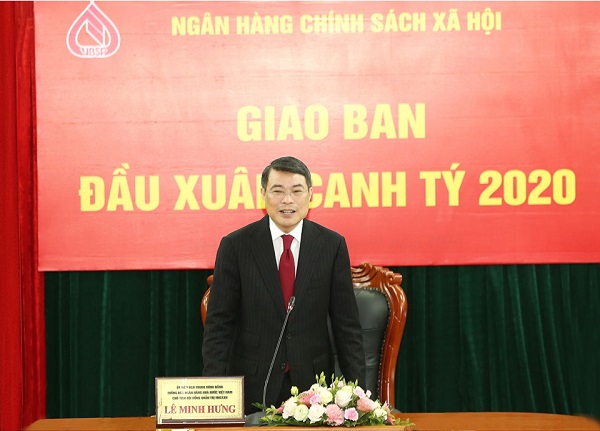 Governor Le Minh Hung gave a speech at the meeting
At the meeting, on behalf of the VBSP Board of Management, General Director Duong Quyet Thang has reported the results of VBSP. Currently, VBSP held transaction at nearly 11,000 commune transaction points, total capital in 2019 reached VND 216,361 billion, in which entrusted capital from the local budget reached VND 15,443 billion, accounting for 7.1% of the total capital, completing 162% of the plan assigned in 2019.
Total lending turnover reached VND 70,000 billion, an increase of more than VND 7,900 compared to 2018, with nearly 2.2 million poor households, near-poor households and other policy beneficiaries access loans. Total outstanding loans reached VND 206,805 billion, of which, outstanding loans for credit programs under the growth plan assigned by the Prime Minister reached VND 179,926 billion, an increase of VND 14,784 billion (+ 9%) compared to the end of 2018, completing 100% of the plan with over 6.5 million active borrowers. The outstanding loans of credit programs for livelihood and employment accounted for 73.8%.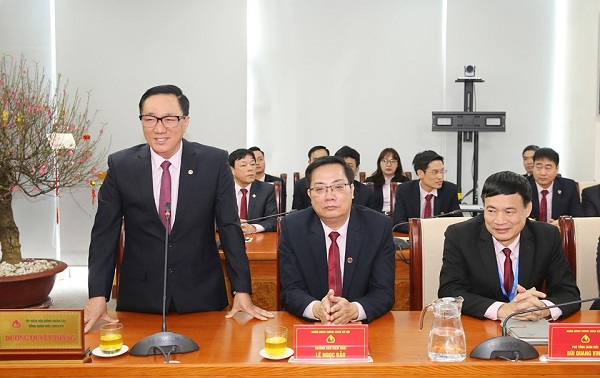 General Director Duong Quyet Thang gave a speech at the meeting
Right in 2019, VBSP has already served 266,000 workers, of which nearly 7,000 migrant workers, more than 36,000 disadvantaged students to study, building over 1.2 million clean water and sanitation facilities in rural areas, 156,000 houses for the poor and more than 4,000 social houses for the low-income population.
General Director Duong Quyet Thang emphasized that VBSP has successfully accomplished the 2019 objectives: Concentrate resources, create a breakthrough in poverty reduction; improve the quality and efficiency of inclusive finance; separate inclusive finance from commercial finance; mobilize the whole society to participate in sustainable poverty reduction, social security and new rural construction.
VBSP has established a practical operational model. The loans are successfully managed through the entrusted activities for mass organizations. As such, the inclusive financial services are ensured to reach the right beneficiaries, the quality and efficiency is continuously improved and enhanced.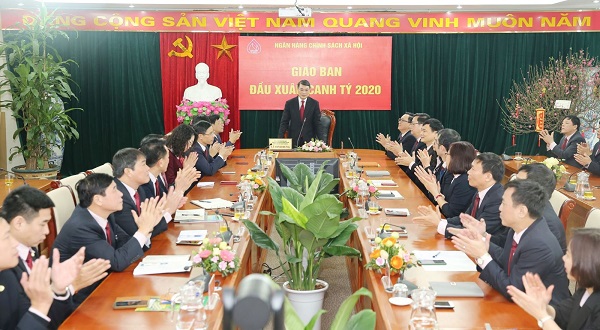 The view of the meeting
Governor Le Minh Hung recognized and praised the achievements of VBSP in 2019, which has made a positive contribution to the implementation of the National Target Program on sustainable poverty reduction.
Regarding the socio-economic situation and banking industry mission in 2020 and the following years, Governor Le Minh Hung requested VBSP to proactively set up the development strategies for the period of 2021 - 2025 according to banking industry development strategy and national socio-economic development strategy. At the same time, VBSP need to well prepare development strategy with higher targets, taking appropriate steps, ensuring the VBSP system to perform the tasks in line with the law and legislation.
In 2020, the Board of Directors requests all the staffs to work closely to successfully complete the tasks. Along with that, VBSP needs to reform and simplify administrative procedures, create more favorable conditions for poor households and policy beneficiaries to access inclusive financial services, actively mobilize appropriate fund resources, strengthen supervision to ensure the loans reaching to the right beneficiaries.
source: baotintuc.vn
LENDING INTEREST RATE
Poor Households

Lending to poor households
6,6%/year
Lending to poor households in 64 poor districts as stipulated by the Government Resolution No.30a in 2008
3,3%/year

Near Poor Households

Lending to near poor households
7,92%/year

Students

Lending to disadvantaged students
6,6%/year

People in need of loans for job creation

Lending to business establishments owned by war invalids and handicapped persons
3,3%/year
Others...
DEPOSIT INTEREST RATE
Term
Deposit Rate
Overnight
3,04%/year
1 week
3,23%/year
2 week
3,5%/year
Others...