VISITORS







News & Events
Updated: 2020-01-08 15:02:18
VBSP determines to implement the key tasks in 2020
(VBSP News) On 04 January 2020, VBSP organized the 2020 mission deployment conference in Hanoi. Mr. Duong Quyet Thang, Member of the BOD and VBSP's General Director has presided the meeting.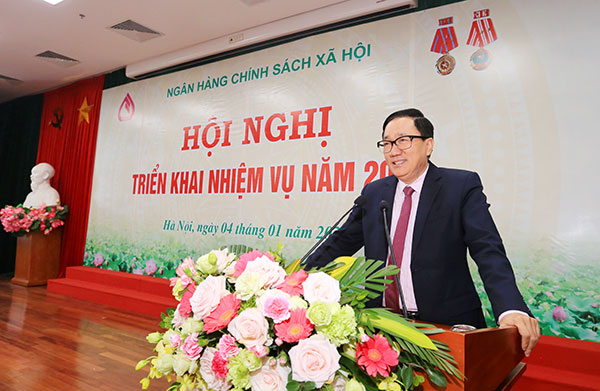 Mr. Duong Quyet Thang, VBSP's General Director gave a speech at the Conference
The conference welcomed the present of the representatives of the Central Organizing Committee; Party Committee of Central Business Division and State Bank of Vietnam with other VBSP officials.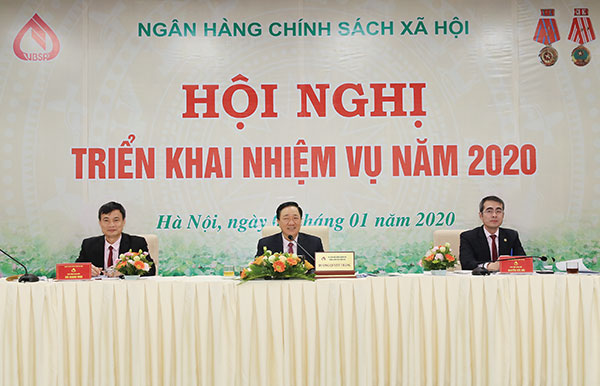 VBSP's board of management
At the Conference, Mr. Duong Quyet Thang, VBSP's General Director emphysized that the activities of VBSP in 2019 achieve a significant results and successfully complete the assigned tasks. By 31 December 2019, the total capital reached VND 216,361 billion, an increase of VND 17,585 billion compared to 2018; In particular, entrusted capital from the local budget reached VND 15,443 billion, accounting for 7.1% of the total capital, an increase of VND 3,634 billion compared to 2018, completing 162% of the plan to increase in 2019.
Total outstanding loans reached VND 206.805 billion, an increase of VND 19,012 billion (+ 10.1%) compared to the end of 2018, with over 6.5 million poor households, near-poor households and other policy beneficiaries still having outstanding loans. Of the total outstanding loans, outstanding loans of credit programs serving the needs of production and business to create livelihoods and jobs accounted for 73.8%.
Another highlight in the 2019 activity has been mentioned is the overdue and frozen debts of the whole country accounted for 0.7% of the total outstanding loans up to 31 December 2019, which is strengthening and improving the credit quality of VBSP.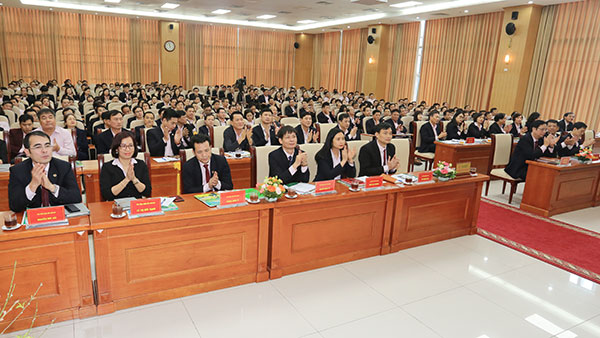 Delegates attending the Conference
The VBSP loans in 2019 has supported customers in running production and business and creating jobs for more than 266,000 people, of which nearly 7,000 migrant workers; helping more than 36,000 disadvantaged students to study; building over 1.2 million clean water and sanitation constructions in rural areas, 156,000 houses for the poor; more than 4,000 social houses. The results have contributed in sustainable poverty reduction and social security all over country.
About the upcoming plans, the General Director requested the whole system to actively collect and mobilize resources and promptly supply loans to the customers, thereby limiting black credit; increasing solvency and improving operational efficiency. Besides, it is the time to review and prepare for VBSP Development Strategy for the period of 2021 – 2030.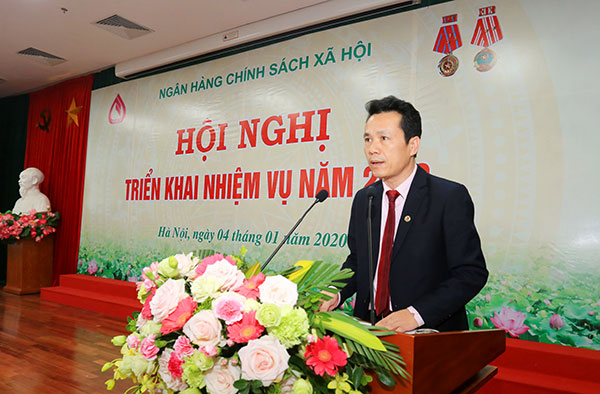 Mr. Hoang Minh Te, VBSP's Deputy General Director launched 2020 emulation
At the Conference, VBSP's Department of Emulation & Commendation announced the reward decisions of the President, the Prime Minister, and the General Director of VBSP for collectives and individuals with successfully completed their tasks in 2019 and launch emulation with the target criteria in 2020.
Source: vbsp.org.vn
LENDING INTEREST RATE
Poor Households

Lending to poor households
6,6%/year
Lending to poor households in 64 poor districts as stipulated by the Government Resolution No.30a in 2008
3,3%/year

Near Poor Households

Lending to near poor households
7,92%/year

Students

Lending to disadvantaged students
6,6%/year

People in need of loans for job creation

Lending to business establishments owned by war invalids and handicapped persons
3,3%/year
Others...
DEPOSIT INTEREST RATE
Term
Deposit Rate
Overnight
3,04%/year
1 week
3,23%/year
2 week
3,5%/year
Others...