VISITORS







News & Events
Updated: 2019-12-26 14:41:00
Policy credit: An effective tool for sustainable poverty reduction
(VBSP News) Looking back on the deployment of credit policy to realize the National Target Program on Poverty Reduction in 2016-2020, what makes Mr. Duong Quyet Thang - VBSP General Director, most happy is that policy credit sources have increasingly taken roots in people's lives, helping needy households and policy beneficiaries to embark on economic development and improve the quality of life.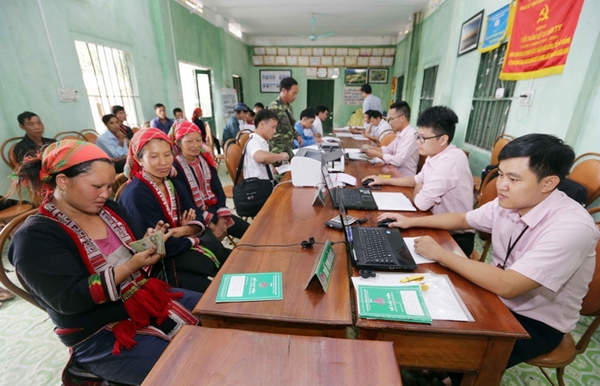 VBSP lends local people at a communal transaction point
In the past years, VBSP has made non-stop efforts to join efforts with relevant ministries and sectors in consulting with the Party and the government, striving to gradually perfect credit policies towards needy people and policy beneficiaries.
Policy efficiency
Mr. Ha Xao Xuyen (62) from the Muong ethnic minority group in Nhoi hamlet, Long Coc commune, Tan Son district in the northern province of Phu Tho, 80km from Hanoi is a typical example. In the past, Mr. Xuyen's family of six was struggling to get by as they only had a quarter-hectare field for farming. Although they were very diligent in farming, they could only cover about nine months of the year, and in the remaining three months life was extremely hard for them, partly because their area was often hit by floods.
In the previous years, local lending groups had often visited their home offering them loans, but Mr. Xuyen's wife was too cautious to borrow. It was not until 2010 when their children grew up that they decided to take out an initial loan of VND 30 million ($1,300) to buy a pair of buffalos to breed. Five years later, they sold some buffalos to pay off debts. At the time, their family upgraded their house and gradually rose out of chronic poverty.
In 2015, they took up another VND 30 million from the bank to grow tea on nearly one hectare. Recently, the family has invested in raising honey bees and collected 40 litres of honey from the first batch. Their one-hectare tea field is also on the roll now with an annual output of eight tonnes and they also take care of four buffalos.
Credit flows have gradually infiltrated the life of the community like in the case of Mr. Xuyen's family, helping to dispel the difficulties of local households.
Tan Son district in Phu Tho province, where Mr. Xuyen's family is living, consists of 17 communes, six of which (81,700 people) are facing especially difficult living conditions. Ethnic minority groups account for 82.3 per cent, mainly belonging to the Muong, Dao and H'Mong ethnicities. VBSP's Phu Tho branch has thus far given more than VND 304 billion ($13.2 million) in total lending revenue to 9,120 borrowers.
Since 2016, VBSP's policy credit sources have helped around 2,000 local households to escape poverty, eradicating over 240 makeshift houses, and supporting over 300 pupils and students living in poverty to continue their studies. Leveraging the timely loans, nearly 1,300 hygienic water and rural environmental sanitation facilities were built, and more than 500 laborers from poor households and local ethnic minority groups could go to work abroad.
This has contributed to driving down the rate of needy households in Tan Son district to 17.6 per cent in 2018 from as high as 26.38 per cent in 2016, lifting Tan Son out of the list of 61 poor districts in the country. Notably, one commune in the district was recognized as meeting new rural standards last year.
Striving for policy optimization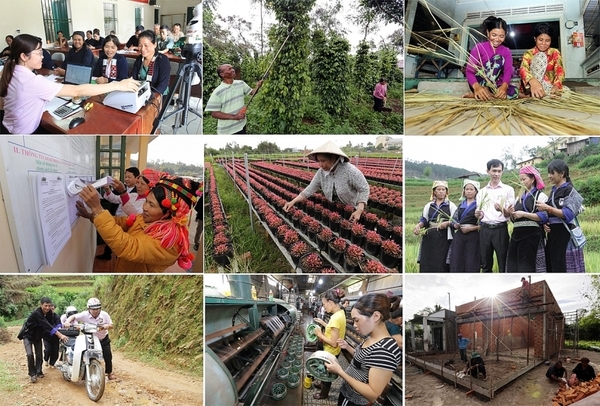 Policy credit helps people in remote areas and ethnic minority groups stabilize their lives
To boost credit sources' efficiency, VBSP wants localities, the Fatherland Front branches, and relevant collective organizations and business associations to more effectively carry out Directive No.40-CT/TW of the Secretariat and Decision No.401/QD-TTg dated March 14, 2016 of the prime minister on strengthening Party leadership on policy credit. VBSP has required ministries and sectors to ensure sufficient budget sources to implement policy credit programs. This also covers the allocation of state budget capital serving the approved mid-term investment plan in 2016-2020 for VBSP.
Together with many other localities, VBSP has proposed the government, ministries, and sectors to allot sufficient resources to ensure the program's effective implementation when introducing policy credit-related policies and mechanisms. Simultaneously, VBSP also seeks approval from the central government to raise the limit of bond issuance with government guarantee that is aligned with the prime minister's assigned credit growth target. This is aiming at supplementing capital sources to conduct policy credit programs of longer terms.
VBSP also proposes the government to seek permission from the National Assembly to set aside a sum deducted from the central budget for the implementation of the master plan for investment development of ethnic minority groups and mountainous areas, as well as areas with especially difficult conditions for socio-economic development. This includes a separate part about policy credit sources earmarked for development of ethnic minority groups.
"The policies tailored to needy households, people from ethnic minority groups, and other policy beneficiaries will target specific beneficiary groups with more concrete support in terms of lending limit, loan duration, and interest rate level that meet actual development requirements," Mr. Duong Quyet Thang - VBSP General Director suggested.
vir.com.vn
LENDING INTEREST RATE
Poor Households

Lending to poor households
6,6%/year
Lending to poor households in 64 poor districts as stipulated by the Government Resolution No.30a in 2008
3,3%/year

Near Poor Households

Lending to near poor households
7,92%/year

Students

Lending to disadvantaged students
6,6%/year

People in need of loans for job creation

Lending to business establishments owned by war invalids and handicapped persons
3,3%/year
Others...
DEPOSIT INTEREST RATE
Term
Deposit Rate
Overnight
3,04%/year
1 week
3,23%/year
2 week
3,5%/year
Others...