VISITORS







News & Events
Updated: 2019-12-26 09:26:30
Social policy credit contributes to sustainable poverty reduction and new rural construction
(VBSP News) VBSP organized a conference to meet delegates from mass organizations on December 23, 2019. Attending the meeting included VBSP General Director – Mr. Duong Quyet Thang and leaders of central mass organizations.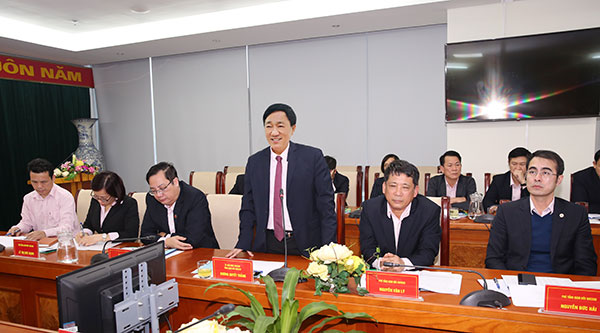 VBSP General Director – Mr. Duong Quyet Thang speaks at the conference
By the end of 2019, the total policy credit capital reached VND 212,300 billion, an increase of VND 17,880 billion compared to 2018. Total lending turnover reached VND 70,000 billion, an increase of VND 7,900 compared to 2018 with nearly 2,2 million borrowers. Total outstanding loans for credit programs reached VND 207,500 billion, an increase of VND 19,708 billion (+ 10.5%) compared to the end of 2018, in which, outstanding loans of credit programs under Prime Minister's growth plan reached VND 180,000 billion, an increase of VND 14,858 billion (+ 9%) compared to the end of 2018, completing 100% of the plan with over 6.5 million active borrowers.
In the past years, VBSP's financial inclusion service has supported capital for production and business, created jobs for 266 thousand workers, of which nearly 7 thousand workers work abroad for limited terms; helped more than 36 thousand students with difficult circumstances get loans to study; built over 1.2 million clean water and sanitation works, 15.6 thousand houses for poor households, more than 4,000 social houses according to Decree 100/2015/ND-CP, etc. Social policy credit has contributed significantly to the effective implementation of guidelines, policies, goals and tasks that the government has set out for sustainable poverty reduction, new rural construction, focusing on human resource development, ensuring social security, political stability, local peace, economic and social development.
Currently, more than 6.5 million households are accessed to VBSP's inclusive finance through 04 organizations and unions, with 177,460 savings and credit groups (SCGs) and nearly 11,000 commune transaction points. Besides, mass organizations well coordinated with VBSP to mobilize the members to make deposits. Almost all of the members of SCGs participated in savings with the total deposits of VND 10,258 billion, an increase of VND 1,297 billion (+ 14.47%) compared to the beginning of the year. At the same time, strengthening and improving the quality of SCGs are also concerned. Up to now, the number of the excellent groups accounted for 79.75%, the good groups accounted for 14.31%, the average groups accounted for 5.16%.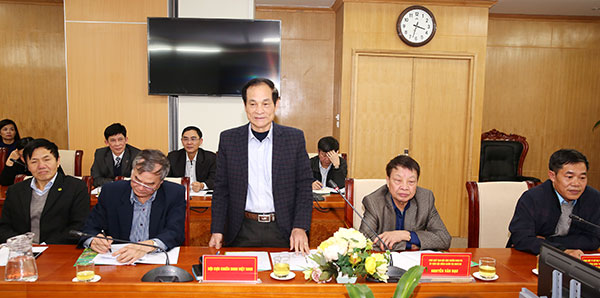 Representatives of mass organizations at the conference
At the conference, delegates from mass organizations said the social credit policy has helped many households have the opportunity to escape from poverty sustainably. In order to improve the effectiveness of policy credit in general and mandate service in particular, mass organizations propose to continue the implementation of Directive No. 40-CT / TW of the Central Committee's Secretariat and the Decision No. 401/QD-TTg of the Prime Minister on strengthening the Party's leadership on social policy credit. In addition, mass organizations also should coordinate with VBSP to timely meet the beneficiaries' needs, maintain and improve the credit quality in the whole system.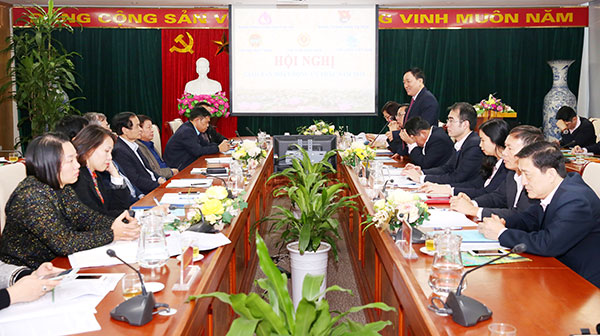 Landscape of the conference
At the conference, VBSP General Director – Mr. Duong Quyet Thang said that besides the achievements, there are still some problems in mandate activities, such as: some mass organizations don't fully implement their tasks, the quality of the mandate activities is still low; the operational quality of some SCGs is not good; inspection and supervision have not been paid attention much.
In order to solve the above problems and successfully fulfill the key tasks in 2020, VBSP General Director – Mr. Duong Quyet Thang suggested the mass organizations to promptly guide and rectify the localities with low quality credit activities, collaborate with local authorities and VBSP to make a list of poor, near-poor and newly escaped from poverty households, which are eligible for getting loans and continue to focus on strengthening and improving the quality of credit policy. In addition, it is necessary to strengthen the inspection, supervision and urge the activities of subordinates, especially the task of supervising and inspecting the SCGs in monitoring, recording and obeying the conventions of the groups, implement the tasks of the mandate contract signed with VBSP and well perform the propaganda of social policy credit to the people.
vbsp.org.vn
LENDING INTEREST RATE
Poor Households

Lending to poor households
6,6%/year
Lending to poor households in 64 poor districts as stipulated by the Government Resolution No.30a in 2008
3,3%/year

Near Poor Households

Lending to near poor households
7,92%/year

Students

Lending to disadvantaged students
6,6%/year

People in need of loans for job creation

Lending to business establishments owned by war invalids and handicapped persons
3,3%/year
Others...
DEPOSIT INTEREST RATE
Term
Deposit Rate
Overnight
3,04%/year
1 week
3,23%/year
2 week
3,5%/year
Others...