VISITORS







News & Events
Updated: 2020-04-06 09:13:54
VBSP Da Nang in the fight against Covid-19 pandemic
(VBSP News) As a leading inclusive financial institution in Da Nang, VBSP Danang has implemented many measures to ensure the stable access to financial inclusion as well as contribute to the fight against Covid-19 pandemic.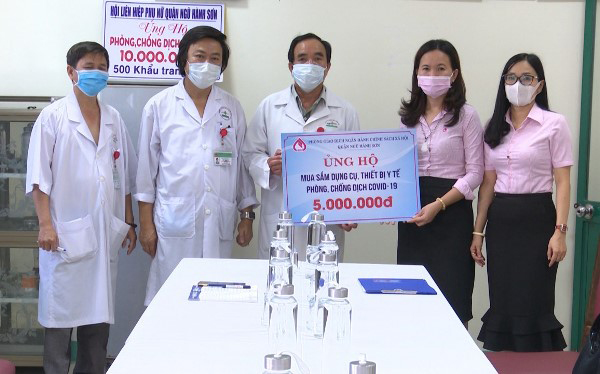 VBSP Da Nang Transaction Offices give donations to district health centers
Firstly, VBSP focuses on the customers' need and actively disburse to the right beneficiaries. At the beginning of the year, with VND 160 billion of entrusted capital, VBSP has helped the borrowers to maintain, convert and restore production and trading services to serve the community during the epidemic season. Up to now, more than 5,900 customers have been granted loans, total outstanding loans reached VND 2,448 billion, an increase of VND 50 billion compared to 2019. The responsible finance fully and promptly responds to the poor and other policy beneficiaries, contributing to the prevention of black credit situation in the city, creating and maintaining for over 5,900 workers in the city.
Secondly, VBSP has deployed several measures to respond promptly and without interrupting customers' access to loans during the pandemic phase. VBSP has arranged and divided service time for customers coming to VBSP transactions at the transaction points; disinfected the workplace; required people wearing mask, checked body temperature for customers and requested customers to use hand sanitizer before and after the transaction. Since February 2020, nearly 4,000 masks have been distributed to customers and tellers at the transaction points. In addition, each branch staff is advocated to raise their sense of self-protection and community protection under the guidance of the Ministry of Health and localities on precautious measures, voluntary medical declaration for themselves and their family; make donation to Government…
Last but not least, in response to the call of the Prime Minister, the Central Committee of the Vietnam Fatherland Front and the launch of the VBSP Standing Committee on launching the supporting campaign on Covid-19 and drought and saltwater intrusion in the Mekong Delta provinces, VBSP Da Nang employees have voluntarily contributed nearly VND 200 million in total. In particular, a part was transferred directly to 7 district hospitals in the city for purchase of medical equipment and another was given to the Vietnam Fatherland Front Committee in Da Nang to contribute to the prevention and control of Covid-19.
Source: vbsp.org.vn
LENDING INTEREST RATE
Poor Households

Lending to poor households
6,6%/year
Lending to poor households in 64 poor districts as stipulated by the Government Resolution No.30a in 2008
3,3%/year

Near Poor Households

Lending to near poor households
7,92%/year

Students

Lending to disadvantaged students
6,6%/year

People in need of loans for job creation

Lending to business establishments owned by war invalids and handicapped persons
3,3%/year
Others...
DEPOSIT INTEREST RATE
Term
Deposit Rate
Overnight
3,04%/year
1 week
3,23%/year
2 week
3,5%/year
Others...