VISITORS







News & Events
Updated: 2021-01-06 11:02:28
Residents are supported to reproduce after the inundation
(VBSP News) In the context of property demage in Quang Tri province after the flood, VBSP branch in Trieu Phong district (Quang Tri) has examined and supported poor households and other policy beneficiaries to reproduce by deploying the preferential loans. Hence, the locals are motivated to overcome difficulties, to reproduce, and stable their life.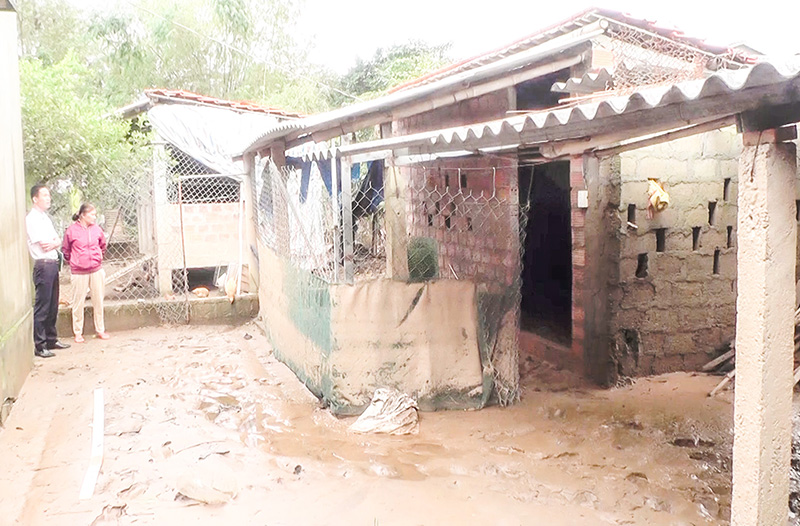 A staff of VBSP branch in Trieu Phong was examining the poverty demage and the demand for borrowing loans after the flood.
Trieu Phong is a flood-prone area that is strongly affected by natural disasters. According to the People's Committee, in October 2020, more than 17.000 households are deluge, approximately to VND 300billion of poverty demage. After the floods, the local people faced lots of difficulties, especially in cultivation.
Immediately after the flood, the local branch has coordinated with the government to examine the loans demand of poor households and policy-based beneficiaries to qualify and support them to reproduce and make ends meet. This additional loan has promptly met the needs of local people.
Le Thi Huong, a resident in Co Thanh village, Trieu Thanh commune was listed as a near-poor household that her income mostly depends on breeding. Her house and chicken coop were heavily damaged because of the floods, in which more than 500 chickens were lost, equivalently up to VND 60 million. The main income has completely lost, making her family situation more troublesome.
Her family is on the list of VBSP to borrow the loans to reproduce. Huong shares that her family had borrowed VND 50 million from VBSP. She will use this money to continue breeding chickens, invest in chicken incubators to support breeding. Thanks to this preferential loan, her family has overcome difficulties and stable her family life.
Sharing the same situation with Huong, Phan Thi Hao living at Co Thanh hamlet, Trieu Thanh village is listed as a poor household. The recent flood has damaged her family 4 pigs and deluged many stables. Her difficulties become more significant because the previous loan has not been fully paid. Hao shares that she had borrowed VND 50 million from the preferential loans of VBSP to invest in pib breeding. Thanks to that, we are able to have a stable income. Unluckily, the disaster happened causing to lose all the property. The local VBSP has surveyed the damage caused by floods and agreed to continue lending for Hao's family to maintain the cultivation. Therefore, she will be able to stabilize her life soon.
Until now, there are hundreds of poor, near-poor households, and other policy-based beneficiaries in Trieu Phong district were able to borrow loans to invest in cultivation. These people are customers who are easily vulnerable to natural disasters. After the flood, there were 600 customers borrowing loans from VBSP to produce, cultivate the 25 billion VND loan.
In order to meet the demands of economic development, production recovery, and stabilization of the local's lives after the floods, the local VBSP branch has cooperated with the Party committees, and the socio-political organizations to review and evaluate the damage of the borrowers. Hence, the suitable solutions, such as to extend or fix the loans are applied.
Until 30/10/2020, the VBSP has disbursed for 24 people whose assets are strongly damaged by the flood with the total capital was up to VND 1,2 billion. Until now, the bank has received 36 customers and strived to disburse for borrowing before 30/12/2020 with VND 1,8 billion.
The Vice Director of the VSPB branch in Trieu Phong district, Mr. Nguyen Huu Hai states that the branch continues to have suitable solutions such as associating with the local community to review borrowers. Besides, customers who are damaged by floods have been supporting access to the loans. In terms of the households that are strongly affected by the flood, other policies are applied such as extending the loans according to the regulations. VBSP will coordinate with the local government to ensure that the situation is under control, make sure that the loans will operate with the right purpose to the right objects.
Vbsp.org.vn
LENDING INTEREST RATE
Poor Households

Lending to poor households
6,6%/year
Lending to poor households in 64 poor districts as stipulated by the Government Resolution No.30a in 2008
3,3%/year

Near Poor Households

Lending to near poor households
7,92%/year

Students

Lending to disadvantaged students
6,6%/year

People in need of loans for job creation

Lending to business establishments owned by war invalids and handicapped persons
3,3%/year
Others...
DEPOSIT INTEREST RATE
Term
Deposit Rate
Overnight
3,04%/year
1 week
3,23%/year
2 week
3,5%/year
Others...