VISITORS







News & Events
Updated: 2018-11-05 17:12:16
Ky Son district makes use of preferential credits
(VBSP News) The Vietnam Bank of Social Policies (VBSP)'s branch in Ky Son district has effectively implemented preferential credit programmes over the years. This is considered an effective tool in creating jobs and ensuring social welfare for ethnic people in the locality. People's livelihoods have much improved thanks to preferential credits for economic development.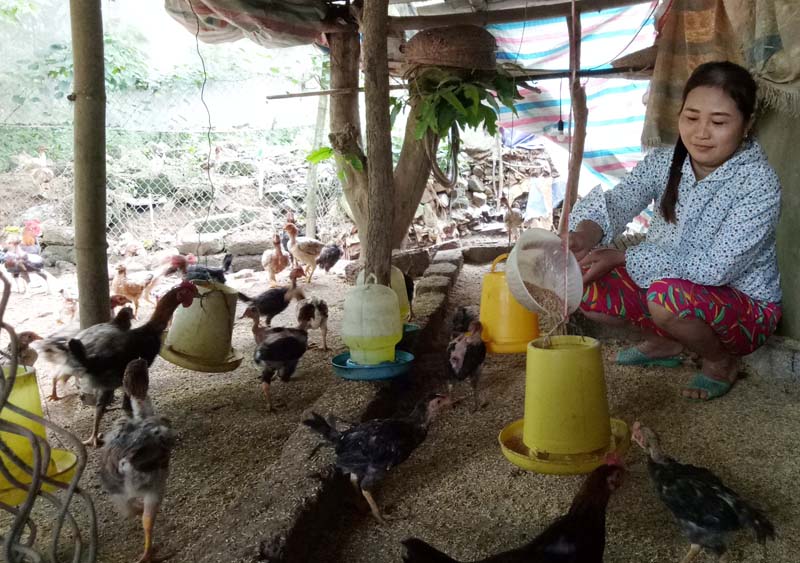 Family of Nguyen Thi Hai in Van Tien village, Dan Ha commune (Ky Son district) invests in poultry farming to bolster household economy.
Since 2017, the policy credit programmes contributed to the building of 641 new clean water and sanitation works in rural areas, helping to improve local people's lives. They also provided loans for 11 disadvantaged students and created jobs for 111 labourers.
As many as 23 poor and disadvantaged families received loans to repair and upgrade their houses, thus stabilising their lives.
As many as 152 households that have escaped from poverty and near-poverty statuses, remain beneficiaries to preferential credits toward sustainable poverty reduction.
Nguyen Manh Hung, Director of VBSP transaction office in Ky Son district, said that the office has carried out 13 social policy credit programmes. As of the end of September, total loans for nearly 4,980 families exceeded 129 billion VND (5.52 million USD). Overdue loans in the district amounted to 287 million VND, or 0.22 percent of the total.
With the current mechanism, most of the programmes are entrusted to socio-political organisations, with loans accounting for 99.7 percent of the district's total.
The trusted organisations have devised programmes and inspected the implementation in affiliates, money-savings-and-borrowing groups and borrowers. The VBSP's district branch and trusted organisations seriously attended periodical meetings, exchanged information and effectively collaborated in steering and guiding activities of groups handling loans at commune-level, to further improve model of money-savings-and-borrowing groups.
At transaction points in the communes, there are signboards which record date of transaction, regulations, information on new credit programmes, lists of households with loans within maturity date as well as due and overdue loans.
Hoa Binh News
LENDING INTEREST RATE
Poor Households

Lending to poor households
6,6%/year
Lending to poor households in 64 poor districts as stipulated by the Government Resolution No.30a in 2008
3,3%/year

Near Poor Households

Lending to near poor households
7,92%/year

Students

Lending to disadvantaged students
6,6%/year

People in need of loans for job creation

Lending to business establishments owned by war invalids and handicapped persons
3,3%/year
Others...
DEPOSIT INTEREST RATE
Term
Deposit Rate
Overnight
3,04%/year
1 week
3,23%/year
2 week
3,5%/year
Others...