VISITORS







News & Events
Updated: 2019-01-18 15:03:14
VBSP contribute to moving away illegal loan
(VBSP News) Illegal credit practices have been complicated, especially in the South and the Central Highlands, causing serious consequences. This shows the fact that people are not fully aware of the harm and still reach for forms of loan sharking.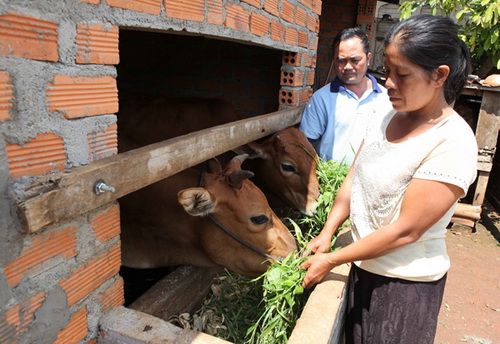 VBSP provide formal financial service for the poor to improve their likelihood
The online conference this morning of the State bank has come up with solutions to mitigate illegal credit. The husband of this woman borrowed only 10 million dong but with an interest rate of nearly 600% per year. The accumulated interest rapidly made the debt unable to pay, her husband, Nguyen Minh Tuan was stabbed to death by the lender
Nguyen Thi Be, Phan Ri Thanh commune, Bac Binh, Binh Thuan said that they rush into the house and beat me 2 times. They hit me in the face, my husband told them not to beat his wife. One guy pulled a knife and stabbed my husband. He screamed "They stabbed me".
According to statistics from the Ministry of Public Security, in the last 4 years the country has had more than 7600 cases of illegal credit-related crimes. Particularly in 2018, Ho Chi Minh City police discovered 60 groups with more than 230 subjects were illegally engaged in illegal credit. According to investigation of authorities, most people organizing illegal credit activities coming from Northern provinces who operate under gangs.
How to repel black credit? Raising the credit line for loans without collateral, simplifying loan procedures are the fundamental solutions that the Central Bank has discussed to reduce illegal credit.
Mr. Nguyen Van Ly, Deputy General Director of VBSP said "We also researched and proposed to raise the credit line accordingly, possibly from VND 80 million to VND 100 million. With this level of increase, the people would have pretty enough capital for business and production which can help them to stop approaching non official credit including illegal credit".
Individuals and households residing in rural areas will be able to borrow up to VND 200 million without collateral, twice as much as before. This is one of the breakthroughs of Decree 116 replacing the Decree 55 to contribute to timely meeting the capital needs of people, especially in remote areas. This provision also contributes to limiting the situation in which customers without collateral assets and lack of capital having to reach for illegal credit.
Mr. Pham Toan Vuong, Deputy General Director of VBARD added that as a result of increasing credit line, it can both ensure efficiency and ensure the requirements of economic development, while ensuring recovery, and safe operation of the Bank.
Along with that, the loan procedures will be simpler and more convenient than before to meet the demand for capital of the people. It is also statement of the Central Bank who is also willing to take part and actively coordinate with ministries, agencies and local authorities to prevent and repel black credit.
LENDING INTEREST RATE
Poor Households

Lending to poor households
6,6%/year
Lending to poor households in 64 poor districts as stipulated by the Government Resolution No.30a in 2008
3,3%/year

Near Poor Households

Lending to near poor households
7,92%/year

Students

Lending to disadvantaged students
6,6%/year

People in need of loans for job creation

Lending to business establishments owned by war invalids and handicapped persons
3,3%/year
Others...
DEPOSIT INTEREST RATE
Term
Deposit Rate
Overnight
3,04%/year
1 week
3,23%/year
2 week
3,5%/year
Others...