VISITORS







Updated: 2022-11-23 13:33:36
Inclusive financial schemes contribute to poverty reduction
(VBSP News) During the past 20 years, with the attention and direction of local leaders, the close coordination of mass organizations, the preferential credit from the State has timely supported the poor and disadvantaged ethnic minority households to help them develop their production and business and improved their lives.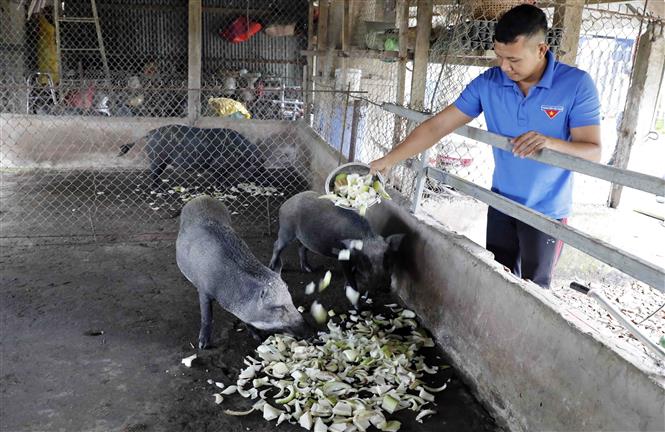 Mr. Tran Sang in Tu Dien hamlet, Dai An 2 commune, Tran De district used the VBSP's loan to raise livestock and renovate the garden to grow fruit trees and vegetables for high economic efficiency
As of August 31, 2022, the total policy credit of the branch of VBSP in Soc Trang province reached over VND 4,289 billion, 58 times more than in 2003; the average growth rate per year is 22%. In which, the budget capital from the provincial and district People's Committees entrusted to the VBSP was VND 137.5 billion. Policy capital is transferred through a network of 109 commune transaction points, with 3,168 savings and credit groups located in 773 hamlets and hamlets.
After 20 years of operation, VBSP branch in Soc Trang province has increased from 2 to 17 preferential credit programs, with a loan turnover of VND 10,619 billion and 662,000 turns of households getting loans. The preferential capital has helped nearly 138,000 households overcome the poverty line; created jobs for more than 38,000 workers, of which 1,900 turns of workers work abroad; over 50,000 disadvantaged students continued studying; 148,000 rural clean water and sanitation projects, and 30,000 houses were built; provided loans to 9 businesses to pay salaries to 912 workers affected by COVID-19…
Mr. Tran Sang's family is Khmer ethnic, living in Tu Dien hamlet, Dai An 2 commune, Tran De district. Since borrowed VND 50 million from the VBSP transaction office in Tran De district, he has invested in livestock. Up to now, his family has 5 cows, each year earns about VND 60 million from raising and growing clean vegetables. His family's life have changed and he has paid off all bank loans. Therefore, he was voted as an excellent emulation farmer at district level.
Mr. Tran Van Lau - Chairman of the People's Committee of Soc Trang province cum Head of the Representative Board of Provincial People's Committee said: Poverty reduction results in the province have positive and effective contributions of preferential credit policies for the poor and other policy beneficiaries. Policy credit in the past 20 years has been one of the solutions to reduce poverty and ensure social security for people in Soc Trang province. The preferential capital flow reaches many poor households and other policy beneficiaries, contributing to the completion of socio-economic development plans in the locality.
vbsp.org.vn
LENDING INTEREST RATE
Poor Households

Lending to poor households
6,6%/year
Lending to poor households in 64 poor districts as stipulated by the Government Resolution No.30a in 2008
3,3%/year

Near Poor Households

Lending to near poor households
7,92%/year

Students

Lending to disadvantaged students
6,6%/year

People in need of loans for job creation

Lending to business establishments owned by war invalids and handicapped persons
3,3%/year
Others...
DEPOSIT INTEREST RATE
Term
Deposit Rate
Overnight
3,04%/year
1 week
3,23%/year
2 week
3,5%/year
Others...