VISITORS







Updated: 2021-06-03 17:40:37
Increase income with policy credit
(VBSP News) Thanks to access to preferential loans from VBSP, over the years, many farmers in Long Ho district (Vinh Long) can invest in economic development. Preferential loans have supported many farmers to get out of poverty, have better living conditions, contributing to improvement of new rural development criteria on poverty and income.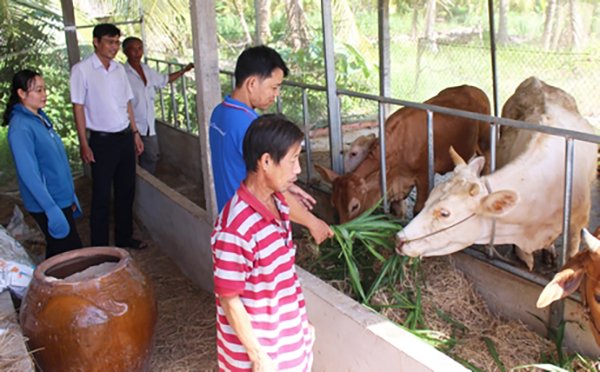 Taking advantage of the support from VBSP, many farmers are able to rise up and improve their income
Effective use of loan resources
Five years ago, through the Farmers' Association of Phu Quoi commune, Mr. Phan Van Thanh's family in Phuoc Binh A hamlet borrowed from VBSP Long Ho district a preferential loan of VND 21 million to buy 3 breeding cows to raise. To help Mr. Thanh raise cows effectively, the Commune People's Committee also introduced him to attend a training course on cow raising techniques. Thanks to that, Mr. Thanh's cows had grew to 14 cows. At present, having sold 11 calves for more than 200 million VND, he has already repaid the loan to the bank, and his family life has become more and more stable.
Mr. Thanh shared that he had more than a decade of raising cows but was "not very good". However, from the day he was introduced to participate in training courses on technology transfer and have money to buy new breeds of cows, he raised cows more efficiently, and the family economy became more and more prosperous.
In Long An commune, VBSP's trust lending through the Commune Farmers' Association is VND 7 billion, with 300 farmers borrowing capital. Vice President of the Commune Farmers' Association Le Thi Kieu Trang said: "In addition to creating favorable conditions for members to access preferential loans, the association also cooperates with related agencies to support husbandry and cultivation techniques. So the majority of members effectively use the preferential loans. Thereby, there have appeared many good business models of farmers, applying science and technology for production, transforming the structure of crops and livestock in line with market demand. Many models went large production scale, create jobs for members. Currently, the number of households with an average income of over VND 200 million /year has increased by 2-3 times compared to previous years".
In 2020, VBSP in Long Ho district has helped more than 500 turns of poor households, near-poor households, and newly escaped from poverty households to get loans of nearly 20 billion VND in total. Policy credit have contributed to the realization of social security goals, new rural construction and stabilization of the local social security.
Increase income, reduce poverty
Implementing the Resolution of the Party Committee of Long Ho district on new rural development, over the years, the district VBSP has cooperated with local authorities and entrusted mass organizations to effectively implement preferential credit programs.
Accordingly, policy capital has supported poor households and other policy beneficiaries in their production and business, overcoming difficulties, creating jobs for idle workers in communes and facilitating laborers wishing to work abroad.
Director of VBSP in Long Ho district Phan Kim Ngan said: "Every year, the district VBSP advises the district People's Committee to issue a document directing the People's Committees to review the borrowing needs of borrowers in the area, thereby building capital allocation and disbursement plan. Most of the borrowers use capital for the right purposes and use loans at highest efficiency. As a result, in recent years, many poor and near-poor households have paid off their debt, stabilized and improved their income, and developed the family economy".
The effectiveness of preferential loans from the VBSP in Long Ho district has contributed significantly to the average growth rate of the district's agricultural production in the past 5 years (2015 - 2020), which was 2.48%. The average production value per hectare reached VND 155 million. Farmers in the district have also built more than 1,200 agricultural production models with profits of over VND 300 million per year which help increasing their income per capita from VND 28 million/person/year (2015) to VND 39 million/person/year (2020) and poor households rate decreased from 4% to 1.06%.
Up to now, the whole Long Ho district has 6 communes already meet new rural standards. One of the solutions to help people improve their income and reduce poverty to reach new rural development criteria is to take advantage of the support from the VBSP to develop production.
In the coming time, the district VBSP will continue to coordinate to review the loan demands of the poorest households, near-poor households and other policy beneficiaries to timely make capital allocation and disbursement.
At the same time, VBSP will also actively coordinate with local authorities to strengthen supervision of loan use; introduce effective business models, successful agricultural and fishery extension clubs for borrowers to learn and exchange experiences, thereby improving production and business efficiency and achieving the highest economic benefits.
Xuan Tuoi
LENDING INTEREST RATE
Poor Households

Lending to poor households
6,6%/year
Lending to poor households in 64 poor districts as stipulated by the Government Resolution No.30a in 2008
3,3%/year

Near Poor Households

Lending to near poor households
7,92%/year

Students

Lending to disadvantaged students
6,6%/year

People in need of loans for job creation

Lending to business establishments owned by war invalids and handicapped persons
3,3%/year
Others...
DEPOSIT INTEREST RATE
Term
Deposit Rate
Overnight
3,04%/year
1 week
3,23%/year
2 week
3,5%/year
Others...