VISITORS







Updated: 2021-09-30 10:22:21
Preferential capital helps women increase their income
(VBSP News) The Women's Union of Nghi Van Commune, Nghi Loc District has effectively implemented policy credit, helping women members develop economic and reduce poverty sustainably.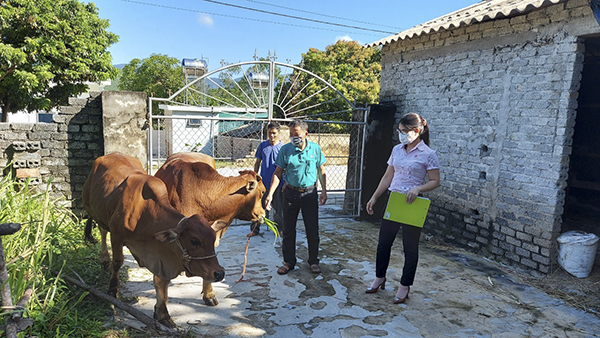 Good economic development model of women members
As a western mountainous commune of Nghi Loc district, the whole commune has 19 hamlets with a population of nearly 12 thousand people, of which 5,465 people are at working age. People's life mainly depends on agriculture. In order to help women members develop their economy and stabilize their lives, the Commune Women's Union annually cooperates with authorities to survey poor households, especially poor households headed by women. On that basis, the Union helps and secures loans to women from VBSP to invest in farming, animal husbandry, business, etc. Up to now, the total loan outstanding facilitated by Commune Women's Union reaches over VND 17 billion for 10 Saving and Credit groups with 417 members. Thanks to good capital management, there have been no overdue debts for many years. The Commune Women's Union has always been ranked well by its superiors and the district VBSP in terms of loan management and use.
To achieve such results needed great efforts of the Commune Women's Union in consolidating and improving activities of Savings and Credit Groups, and understand conditions, thoughts, aspirations, and care about the legitimate and legal rights of women's members, especially those in difficult circumstances. In the process of choosing borrowers, the Union always adheres to the guidance of the VBSP, the Commune Poverty Reduction Board, to reach eligible borrowers publicly. At the same time, regularly check and supervise the borrowers to pay loan interest, participate in group savings, and group activities. At group meeting, the association also organizes propaganda on new policies; share production and livestock experience to use capital effectively, bring high income to repay the bank on time.
With loans, many members have used capital and built effective economic models. Take an example of Ms. Nguyen Thi Tuyet's family in hamlet 6, Nghi Van commune, having got out of poverty and borrowed VND 50 million, her family boldly invested in buying a grinder to raise pigs. Thanks to her hard work, within just 5 years, Tuyet's family not only escaped poverty, but is now a well-off household in the village with 50 pigs in the barn and an income of nearly VND 120 million per year. Ms. Tuyet shared: "VBSP created favorable conditions for our family in our hardest time to develop economic. Thereby, we overcame difficulties and gradually had a stable life."
Or Mr. Nguyen Van Huong's family in hamlet 23, who borrowed VND 50 million under the program for near-poor household since 2016 to buy 1 buffalo and 500 chickens. So far the family has grown to a better-off household and has 4 buffaloes and a farm of 2000 chickens. Borrowing loan for disadvantaged students, Ms. Nguyen Thi Thai's household, a poor household in hamlet 7 has raised 4 children attending college. Now all 4 children have graduated and had stable jobs.
The effective promotion of VBSP loans has contributed to reducing the overall poverty rate of the whole commune from 36 households in 2019 to 23 households in 2020. At the same time, many children have been graduated with help from student loans to get stable jobs to repay the bank loan on time.
Therefore, it can be seen that through lending cooperation with VBSP, on one hand, it helps women members to reduce poverty and on the other hand, attract them to participate in the Union, raising their role in the family and in society.
Minh Nguyet
LENDING INTEREST RATE
Poor Households

Lending to poor households
6,6%/year
Lending to poor households in 64 poor districts as stipulated by the Government Resolution No.30a in 2008
3,3%/year

Near Poor Households

Lending to near poor households
7,92%/year

Students

Lending to disadvantaged students
6,6%/year

People in need of loans for job creation

Lending to business establishments owned by war invalids and handicapped persons
3,3%/year
Others...
DEPOSIT INTEREST RATE
Term
Deposit Rate
Overnight
3,04%/year
1 week
3,23%/year
2 week
3,5%/year
Others...