VISITORS
Updated: 2018-10-12 10:41:19
The efficiency of capital from the Vietnam Bank for Social Policies in Da Bac district
Over the past years, through the VBSP, many poor households in Da Bac district have access to preferential capital of the State. Thanks to the efficient use of the program loans, many households not only escape the poverty but also strive to become rich.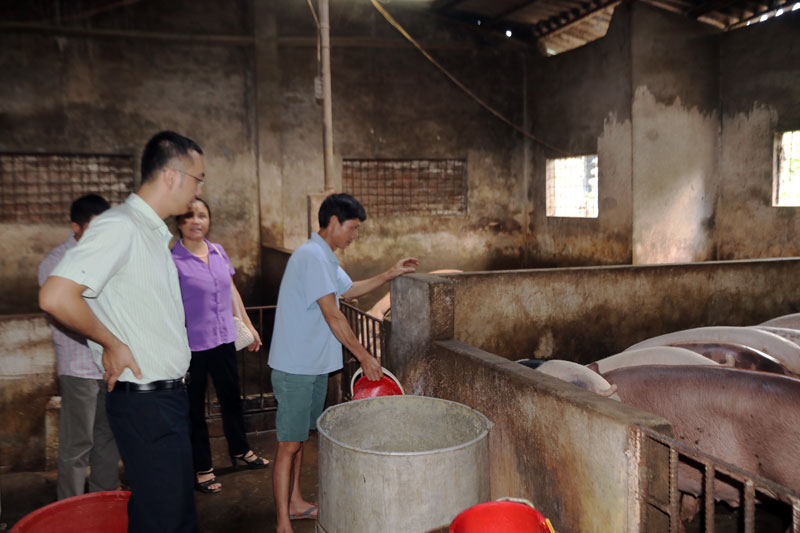 The officer of the Social Policy Bank of Da Bac district visited the model of economic development of Mr. Nguyen Tri Hung, Doan Ket Residential Area - Da Bac town with the loans from the Social Policy Bank.
Thanks to a loan of 20 million VND to solve the problem from the VBSP , the family of Mr. Nguyen Tri Hung, Doan Ket Residential Area, Da Bac town (Da Bac) has overcome difficulties and stepped up to strive to become rich. Since borrowing the loan, along with studying more about how to raise pigs, apply science – technology to make wine and feed pigs with wine dreg, etc., now, his family has a quite good economic condition in the area.
When being asked about the use of bank capital, Mr. Hung said: "Thanks to the VBSP, each year my family sold nearly ten tons of live pigs, at current prices, we earned nearly 500 million VND per year, except the cost, we earned about 100-200 million VND."
Talking to Mr. Nguyen Binh Nam, the Director of the VBSP of Da Bac district, we knew that the bank is the main bank for credit policy of the State, up to now, the bank's total loans in the area is over 314, 3 billion VND, fulfilling 97% of the year - plan; increasing 21,487 million VND (7%) compared with the time of 31 December, 2017. The outstanding debt guarantees 100% of the plan assigned by the superior.
In the first 6 months of 2018, the whole district has 2,612 poor households, near poor households and policy beneficiaries, who were entitled to borrow credit policy loans, the loan amount reached 69.756 million VND, the average loan amount is 26.7 million VND /customer; building 724 new clean water works, 724 new environmental sanitation works, 165 new houses for poor households, 663 jobs have been created.
Hoa Binh News
LENDING INTEREST RATE
Poor Households

Lending to poor households
6,6%/year
Lending to poor households in 64 poor districts as stipulated by the Government Resolution No.30a in 2008
3,3%/year

Near Poor Households

Lending to near poor households
7,92%/year

Students

Lending to disadvantaged students
6,6%/year

People in need of loans for job creation

Lending to business establishments owned by war invalids and handicapped persons
3,3%/year
Others...
DEPOSIT INTEREST RATE
Term
Deposit Rate
Overnight
3,04%/year
1 week
3,23%/year
2 week
3,5%/year
Others...